︎ Timeline: 2 Weeks

︎ Tools used: Figma, Figjam, Adobe Photoshop, and Jira
︎ Team Members:
Taylor Kim, UX Research Lead
Erica Smith, UX/UI Generalist,


Em Mathewson (Me!), UI Lead
---
Discovery
Brainpop is a education tool with animated videos, games, and quizzes. It's really special, and when approaching an audit of the mobile app, my team wanted to do two things: make sure what made it special was preserved, and better help the kids and teachers already using it!

In order to do that, we interviewed educators on Brainpop, and various other education tools, as to what potential painpoints and strengths looked like.

We found that Brainpop's strength, above all else, was encouraging students to discover. It was even a mission statement on their website. But:


Educators that used Brainpop's mobile app said that the organization was confusing. Students didn't know where to find things, even if they wanted to.

The search function didn't aid discovery- if you spelled something wrong, it wouldn't help you!
1.
2.
Alex, our persona.

To figure out how people naturally sorted the information, my team preformed a closed card sort. We affinity mapped, ideated, and finally arrived at a

user persona

. We said hello to Alex, our curious student, who was going to help us improve Brainpop.
Here's a little bit about Alex:
Needs:
Learning that doesn't feel like school

Games and other activities that are fun and keep his attention
Pain points:
Frustrated when he can't tell how well he is doing on assignments
All the videos are the same and there isn't anything unique or funny
He says, "I'm always on my phone trying to find the answers to all my random questions." So how might we help Alex find those answers?
Here's the main problem:
Alex needs a way to find assigned materials so that he can be confident that he completed the correct assignments while also exploring all that Brainpop has to offer.
So, to begin ideating solutions for Alex, we came up with three questions to focus on.
How might we make sure that Alex

is consistently engaged?
2. How might we personalize the

journey for Alex's needs?
3. How might we ensure that Alex feels confident that he is accessing his assigned material?
Here's how we converted those questions, and their potential solutions, into mid-fi wireframes.

1. In our main page, we made assigned videos replace "free videos". We wanted Alex to be able to find his assignments instantly, and then explore as he wanted.
2. We created a "student portal" that shows everything Alex has done, and the status of the project.
3. We ensured that the search engine was forgiving, and that assignments could be easily found.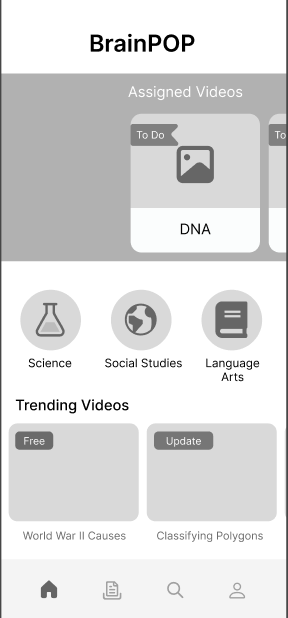 From this, we did

usability tests

with 11 participants to ensure that the organization of the app was intuitive. The tasks were:


Find the "DNA" video.
Find the "Citing Sources" video. (Located further down on the homescreen).

People could do the first task, but the second was harder. To combat this, we tested further, making the "Citing Sources" video also avalible in the "Language Arts" category.
Now, to the

hi-fi prototype

. (My favorite part!)
I maintained the same playful colors as was previously on the app, as well as making sure the "to do" tabs were bright and easy to see. Additionally, because some users had trouble realising that there was more information to be found on the home screen, I added a pop up crayon to appear when they scrolled on the lower part of the screen.
If you want to test it out for yourself, click

here.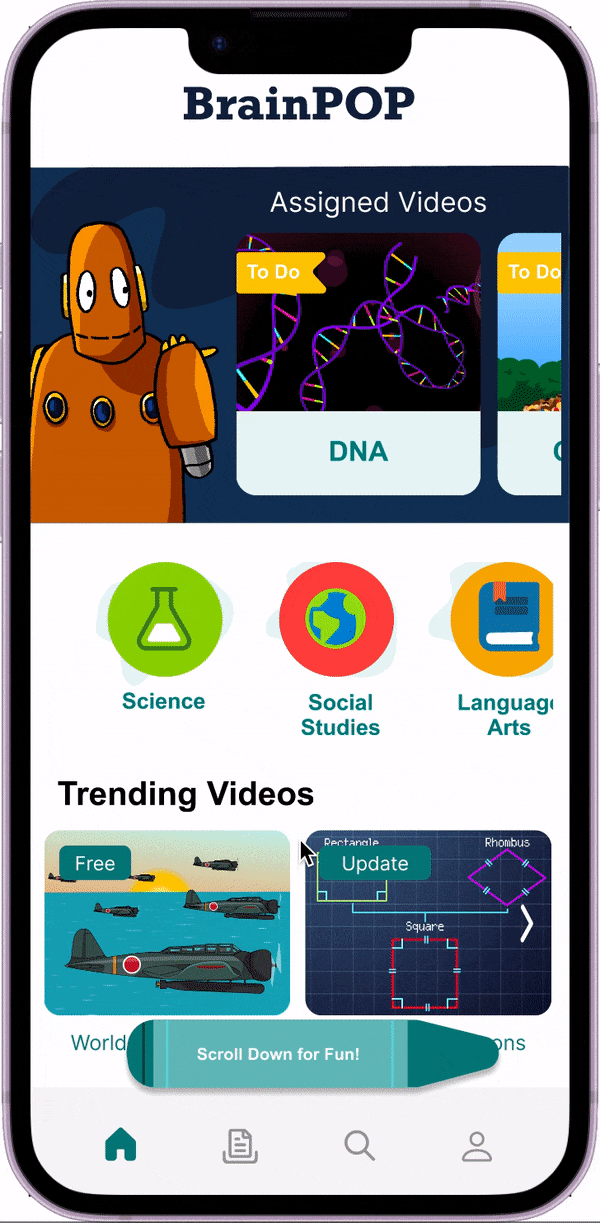 ---
︎Learnings
My team for this project was wonderful, and I'm so greatful. That's not so much a learning, but a fact. To the side of this paragraph is a drawing I made in the Brainpop style of my team and Tim and Moby, Brainpop's cartoon spokespeople. In this two week sprint, timeboxing and team respect was essential, and I'm so fortunate that the other members of my team also prioritized it.
Next Steps
Brainpop's other half of users, teachers and educators, need to be accommodated in this updated version of the app! We recived a lot of data from educators in the discovery phase, but couldn't serve both them and Alex in the time given. If we were to continue on working on Brainpop, we would absolutely need to account for their experience.